HEALTH AND SAFETY
SUPPORT
Health and Safety Support is vital for any business to be successful.
With this in mind, all employers have to consider the adherence to Health and Safety practices, in-line with the Occupational Health and Safety Act, its Regulations, national standards and local by-laws.
It is for these reasons that SafetyWallet (a subscription-based approach to health and safety) was created in 2018.
The Need for SafetyWallet in the Occupational Health and Safety Industry
SafetyWallet was created in 2018, with the vision of its Managing Director, Mr. Leon van der Walt. Throughout the 21 years of experience (at the time) in health and safety, Leon identified the need for employers to have health and safety support, along with the opportunity for the employer to take ownership and accountability for their health and safety processes and compliance within the entity.
With a subscription-based approach to health and safety, this vision has come to life with SafetyWallet offering clients and individuals the opportunity to use a world class health and safety management system, supported by qualified and seasoned individuals, to employers to implement and maintain their health and safety compliance.
SafetyWallet has taken on the task of aligning its values to the needs of its staff, clients and its greater vision and mission for ensuring that loved ones can return home healthy and safe after work. With these values, we believe that we can fulfil this purpose:
Together, we are firm believers in why we do what we do and we do it with excitement!
Inspire today, innovate for tomorrow, motivate always!
We build relationships on a strong foundation of trust and honesty, credibility and integrity in all our undertakings.
We love supporting people with compassion and enthusiasm!
Together, we are committed to support one another to achieve our purpose with confidence.
By understanding and respecting each other, we can be flexible and open in achieving our purpose.
We are mindful and diligent in everything we do, in order to ensure the best possible outcome.
My Safety Shop
SafetyWallet has recently also launched My Safety Shop, an E-commerce platform where employers and persons alike, can purchase the Health and Safety Compliance Solutions they require. The aim of this platform is to further the purpose we have, as well as to provide a platform to clients, with ease of access, navigation and reference, in order to reach the health and safety goals they are striving to achieve.
My Safety Shop offers an ever-growing range of solutions to all visitors, with the benefit of discounts to SafetyWallet subscribers, due to their subscription status, creating an opportunity to save, whilst keeping people safe. These products and services include:
Health and Safety audits
Legal appointment letters
Contractor management and support
Fire equipment
Risk assessments
First aid equipment
Health and Safety inspections
Health and Safety consulting implementation programmes
Health and Safety maintenance programmes
Mandatory posters
Hygiene surveys
Health and Safety training
Lifting equipment training
Workmen's Compensation services and support
SafetyWallet Support and Benefits
SafetyWallet aims at providing the support it renders to its clients to not only make sure that elements regarding health and safety are in place but also to assist with driving a health and safety culture within the client's business. With the benefits which SafetyWallet offers, employers can work towards creating such a culture with the aid of the SafetyWallet support team members, to prevent people from getting hurt at work. These benefits include:
SafetyWallet Subscription Certificate
OHS Online cloud-based health and safety management system
30 Health and Safety E-learning training modules
1200 (continually growing) Risk Assessment task templates with associated risks and hazards, per task / activity
Legal appointment letter templates available in accordance with current legislation

46 Inspection checklists which can be completed via the OHS Online mobile application on-site by the subscriber

Contractor control and management support

Toolbox talks

Safety Alerts

Legislative updates on applicable legislation

Workmen's Compensation compliance verification and application for rebates

Telephonic support on all health and safety matters pertaining to your company
The SafetyWallet subscription then enables the client to create a return on investment through their efforts in reaching compliance due to the fact that every subscription type offers a discount along with compliance reward discounts ranging from 5 to 10 percent and also, a contractor reward discount.
This essentially means that through becoming compliant and keeping your employees safe, you will also be saving more money than your competition, thus making your business and your health and safety management, more cost effective.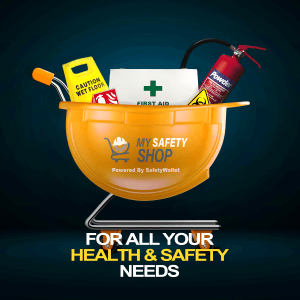 A SAFETYWALLET SOLUTION THAT SUITS YOUR BUSSINESS.
All SafetyWallet Subscribers enjoy the indicated discounts for all products and services provided on My Safety Shop.
Why Health And Safety Is Important
We Believe - A Poem By MAKROSAFE Holdings
SafetyWallet
Powered by OHS Online Supported by Makrosafe